ABOUT US
---
Welcome to My Swimming Plan!
---
A place where you can get your own personalized swimming program from an experienced and certified swimming coach. In order to maximize the effect of swimming training, having a concise and clear plan for each and every training is a must.
With the progression of technology and science involved in sports, no one should swim without a plan. Endless laps without diversity in training are a thing of the past, usually resulting in a low level of motivation, misunderstanding of the whole training process and (eventually) quitting entirely.
With a set and specific goal in front of you and guidance through every step of your training, you will get where you want to be much faster and more efficiently than if you do it yourself.
We are offering swimmers all over the world a chance to get a complete swimming plan designed specifically for them. Every individual has different capabilities, goals, and expectations; in the swimming training process, things are no different. We are specialized in two major training processes: swimming skill and weight loss. If you are looking for professional guidance with your training, you are in the right place. Our services are available on 1 month and 3 months bases.
Swimming coach Marko Skakaljevic has a swimming program for everyone. Whether you are a starter who is learning the strokes; or you are an expert who feels let down by previous swimming drills; Marko will meet you at your level.
Whether you are old or young, whether you are having health issues or not; he will classify you and organize a swimming drill specifically for you. Marko believes in giving everyone a chance to get a personalized swimming program.
PERSONAL SWIMMING COACH
Marko Skakaljevic
---
My name is Marko Skakaljevic. I was born in Serbia in 1993. I started swimming at a very young age (4), swimming became an integral part of my life. For the first couple of years, I was pushed to swim by my parents, but after a tough start, it started to grow on me. When I started competing at the age of 6 and won my first medal at the age of 7, that "like" turned into love. I went through every age group, learning every step of the process. Some years after, when I gained the chance to represent not only my club but my school, community, city, and region, it became an honor and responsibility. As a high school student, aged 16, I had the privilege to assist teachers with the learn-to-swim program. This is when I first had the chance to see the pool from the other side. While teaching I gained the necessary knowledge and experience about how it all gets started in the swimming world, and my eagerness for knowledge and development didn't stop there. Very soon I got the chance to be an assistant coach in the club. This position had the most influence on my career as I learned not only about swim training, but also valuable lessons about dealing with people.
Finally, at the age of 21, I earned the title of independent swimming coach, completely responsible for coaching and guiding young swimmers, dealing with assistants, schools, communities, officials, etc. What an experience! After graduating from the University of Sports, I became a licensed coach and gained access to a large assortment of seminars and conferences. Becoming a member of ASCA ( American Swimming Coaches Association), my knowledge further expanded both through education and through continuous work with swimmers. Today, at the age of 25, I am living and working in Dubai, UAE as a squad coach. In the past 9 years I have had the chance to work with all levels and ages; both with professionals and amateurs; with people who are trying to qualify for their national team as competitors and people who swim for fitness or injury rehabilitation; with swimmers swimming 12 times per week and swimmers swimming twice per week; with children, teenagers and adults.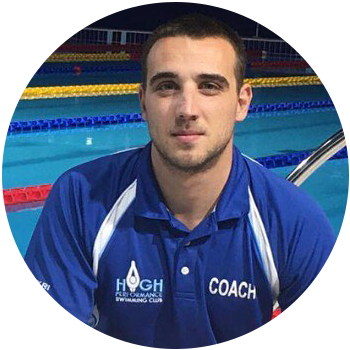 ---
This wide range of work I've done has convinced me that good swimming skills are something anyone can achieve. A major reason why I started myswimmmingplan.com is to make proper swimming training available to all people. With the use of technology, we can make sure every swimmer gets the best training program for him/her and achieves their goals faster.
Personal swimming coach Marko Skakaljevic,
living and working in Dubai, UAE
3 SIMPLE STEPS
---
How does it work?
---
---
In case you are unsure which level is for you, we recommend that you simply test yourself in the pool, or contact us via email at any time.